Crete family holidays is the most frequented option in Greece due to its multifaceted character and its ability to offer pleasant holidays to all types of families. It is also considered one of the safest destination for family holidays. In MATKA Nordic Travel Fair, which took place in Helsinki, Finland, the island of Crete was awarded by the tourist magazine "Mondo" as the safest destination for family holidays in 2015!
The exhibition presented the island's natural beauties, cultural monuments, gastronomic wealth and high-quality tourism infrastructure. The Finns visitors who had already visited the Cretan island stated that they felt confidence and security throughout their holidays.
Planning your next holidays? Enjoy the amazing Island of Crete with a Holiday Crete Villa.
Things you should consider before your Crete family holidays
The age of your little ones is one of the main key factors that will determine your holiday style choice. There is no right age to start a child to travel. You just have to keep in mind that all of you have to adapt to the new conditions, try to balance your needs with your children's needs.
Knowing that holidays with children require very good organization, here are 4 useful things to keep in mind before and during your Crete family holidays:
1) Choose your Family Destination in Crete
If you are lovers of nature and prefer an isolated mountain village on Crete, you have to think it twice. It is necessary to have some essential amenities in a short distance (e.g. medical center, pharmacy, mini market) as holidays with kids can be quite unpredictable. You should carefully choose the place you will stay, to offer children facilities such as playgrounds and babysitting areas if they are needed.
If you have to choose between mountain and sea, the decision is simple: Choose both! The terrain of Crete combines the rugged mountainous beauty with the deep blue seas in the same landscape. So your kids will enjoy dips in the water, and maybe relaxing walks with you in the green nature. South Crete is offered for such combination.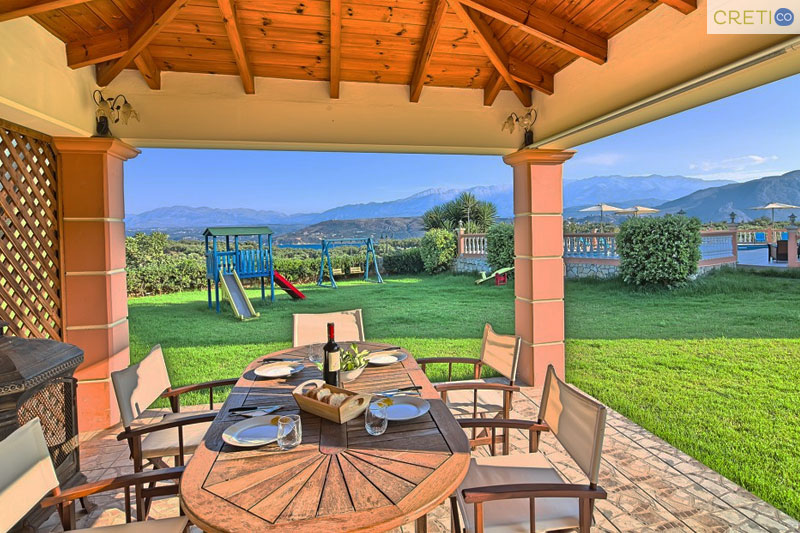 On the other hand, if your kids are teenagers you might want to go after a more popular and mainstream area, so they can go down to the beach to meet new friends or even enjoy the active nightlife of the island.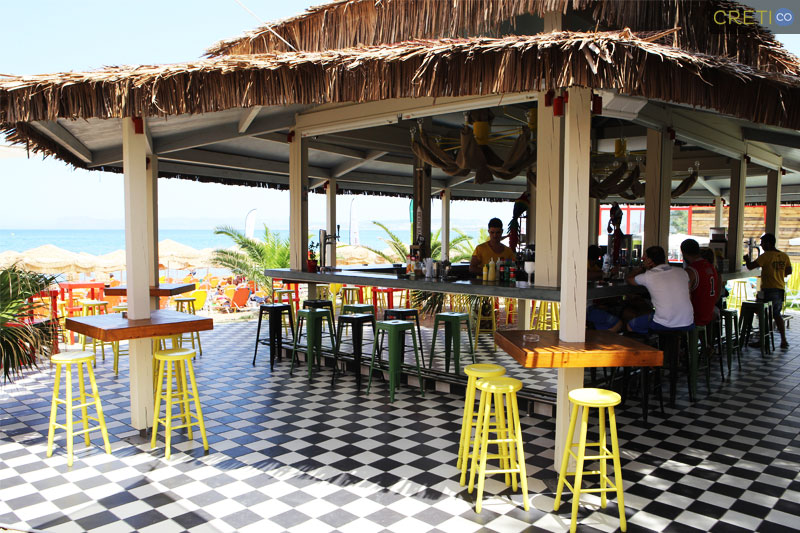 Such popular tourist resorts in Crete are:
2) Look for Family Friendly Accommodation
Crete offers numerous of beautiful traditional or luxurious (depending on your tastes) holiday homes which is probably your best way to enjoy your Crete family holidays. A family holiday home is the best way to enjoy your holidays in privacy while experiencing the authentic Crete. It can also be cheaper than a hotel if you plan to stay for at least a week.
You can have all the necessary amenities for your Crete family holidays and feel like home, from fully equipped kitchen, washing machine and dishwasher to garden play areas, and of course, a private swimming pool to enjoy with your children. You can even have, as an extra service, a nanny to take care your children if you wan to enjoy a quiet romantic walk on the beach.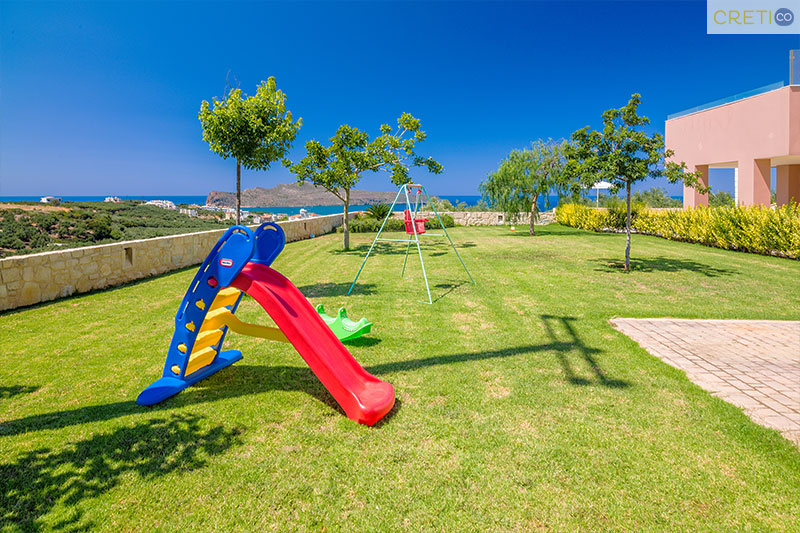 As part of the safety you should always look the outdoor areas or the area around the pool, the indoor stairs (if any) or any other accessible areas around your villa like home, that could involve risks to your children during your stay. If you are not sure about it you should contact the owner and ask him for further information.
3) Family Activities and Things to Do While in Crete
You can take family trips with mountain bikes and enjoy the wild beauty of the island with your family. You can also rent a pedal boat or even a sailing boat and explore the clean and adventurous waters of Cretan seas. Such activities can be even be prearranged from your villa host for your family, with detailed maps and trip ideas.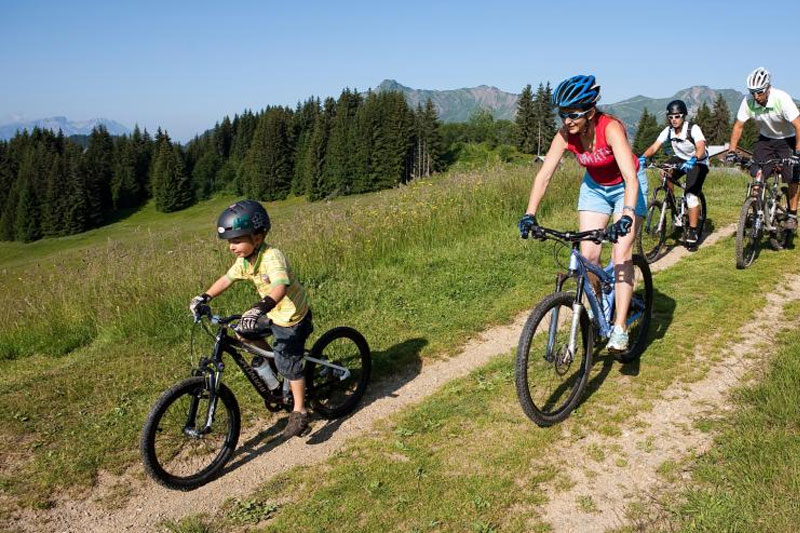 Sightseeing is another activity you can follow with your children while in Crete. The island has to offer a number of attractions allowing your family not only to spend carefree moments, but also learn many interesting and educational facts about it:
You shouldn't miss Aquaworld Aquarium, Crete's first aquarium in Hersonissos and also, the #1 rated aquarium on Tripadvisor for Things To Do in Crete!
Take a tour in the Natural History Museum of Heraklion city and you will be amazed by the giant dinosaurs lived 9 million years ago.
Live the historically exciting history of the ancient Minoans in the Minoan Palace of Knossos, one of the most accessible and attractive historical site for families on the Greek islands.
Take a walk in the Old Town of Chania with its unique Venetian Lighthouse that offers unique beauty, great restaurants and souvenir shops and alleys that kids will love to explore.
Or relax and and let your kids enjoy the fun water slides in one of the water parks of the island! Aqua Plus in Hersonissos and Limnoupolis in Chania are highly recommended.
4) Search for Family Beaches in Crete
The picture of your kids blasting sand quantities right and left or asking ice cream the most unlikely time does not match to the setting of a secluded and peaceful beach with few bathers. If you are attracted by the small coves at the end of gorges that are not so easily accessible (e.g. Seitan Limania in Chania) you may have to look for something more family friendly.
You don't have to worry though as Crete has lots of family beaches with shallow water and sand, easy access and all the necessary facilities.
Elafonissi is the absolute jewel of West Crete with its small sandy island, the pink sand and its blue shallow water, appropriate even for very young kids. Matala beach is a popular family beach in Crete that still retains some of its original charm.
The beaches of Akrotiri in Chania are also perfect spots for families with children. The calm and beautiful Marathi beach for example, with a shallow entrance to the water is a great option. Stavros, Kalathas and Tersanas are also perfect spots for spending family safe moments.
If you are looking for more information about your family trip in Crete, you can have a look in this great family adventure article posted by Globetotting.com
Crete family holidays will offer you the perfect mix of safety, amazing accommodation, incredible hospitality and child-friendly activities under the Greek sun. So what are you waiting for?
Read our Crete Villas Guide and find the holiday villa of your dreams.