Are you planning to spend villa holidays in Chania next year? Crete Holiday Homes located in Akrotiri, northeast of Chania city, are very popular, because of the amenities that the area offers. It is a fact that Akrotiri is one of the most popular areas for family holidays or holidays with friends in Crete. This area covers a quite large part of Chania prefecture, including smaller settlements and villages. That means that, anyone spending their holidays there, have the ability to choose among many options, regarding beaches, food, entertainment, places to visit and activities.
Looking for accommodation in Akrotiri? Check out these holiday villas in Akrotiri!
Akrotiri has many hidden beauties which reveals to any visitor willing to discover them. Among the rocky coast of the Akrotiri peninsula, there are some remarkable beaches and some important historical and religious monuments that are really worth visiting. If you spend holidays with your kids, you will realize that this place is a paradise for families. In Kounoupidiana, a quite big settlement of Akrotiri, you will find everything you may need (super markets, cafes, taverns, fast food, pharmacies, banks, playgrounds, e.t.c.).  However, wherever you stay in Akrotiri, you will find amenities in a short distance by car. The fact that Chania Airport is located there and the distance from Chania city is not more than 15 min. driving is a good reason for choosing one of the Crete Holiday Homes in Akrotiri.
Most popular beaches in Akrotiri
In this area, you will find some of the best Crete beaches. The main characteristic of Akrotiri beaches is that, although they are located in the northern part of Crete, they are not affected by the winds, as other beaches of the north coast. So, in case of a windy day, you will certainly find quietness and calm waters in one of the coves of Akrotiri. The beaches of the area feature emerald, clean waters surrounded by a landscape of wild beauty. Visitors can choose among family beaches or more crowded beaches preferred, mainly, by youth.
Stavros beach
Stavros beach is located 17km east of Chania, on the north end of cape Akrotiri. The main sandy beach is located east of the village, next to the small harbor. This beautiful beach is right opposite a steep mountain which protects it from the winds. The beach has shallow waters and resembles a lagoon offering safety for your children. Umbrellas and sunbeds, showers, lifeguard, water sports, parking, cafe, beach bars and taverns are there to serve your needs.
Seitan Limania beach
It is a beach different from all others. It is known as Seitan Limania, meaning the port of the devil, but it is one of the most heavenly beaches you have ever seen. Access to this beach is quite difficult, as you should descend a fairly steep slope, so we would not recommend to visit it if your children are still very young. Also, keep in mind to bring all the necessary with you, as the beach features no amenities.
Marathi beach
Marathi beach presents two coves, separated by the pier of a small port. They are really wonderful. They are sandy and organized with sunbeds and umbrellas. The taverns and cafes by the sea overlook the shores of Souda Bay and the White Mountains of Chania. Swim and when you get hungry, enjoy the Cretan delicacies at one of the taverns of the beach. Marathi is the ideal beach for families with young children and not only.
Loutraki beach
In the sandy Loutraki beach, you will find shade under the few trees on the beach and umbrellas and sunbeds belonging to the canteen of beach. The beach is preferred mostly by families with young children. On the hill, next to the sandy beach, you will see a specially designed space, covered with lawn, with sunbeds, umbrellas, restaurant and beach bar. This part of Loutraki is mostly preferred by the youth.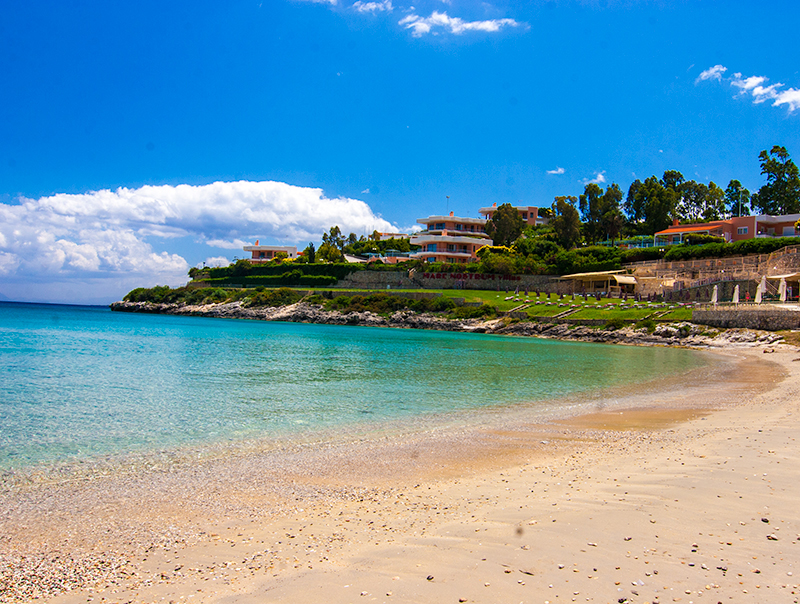 Kalathas beach
The road that connects Chania with Stavros will bring you to Kalathas beach. The sea in Kalathas is very shallow. The beach with its golden sandy beach is organized with sunbeds, umbrellas and two canteens, in case you want a snack, a cold beer or a refreshing cold coffee.
Tersanas beach
A quite big number of Crete Holiday Homes in Akrotiri are located in Tersanas beach, a small, picturesque, sheltered and shallow bay. It hides inside two beaches separated by some rocks, both very well protected from the wind. If you visit Chania with your family and looking for safe beaches on the north side of Chania, then, Tersanas will be one of your choices.
Places to visit in Akrotiri
No matter which one of the Crete Holiday Homes you have chosen for your holidays in Akrotiri, provided that you have a car, you are able to explore the whole area in a few days. Here are the most beautiful places we would recommend you to visit during your stay.
Tombs of Venizelos family
The tombs of Venizelos family, two important politicians and prime ministers of Greece, are located on the hill of Prophet Elias, in a beautiful park with gardens, paved floors, paths, steps and terraces, under the shade of pine trees. What makes this place so beautiful is the blue sea and the panoramic views of Chania. Before you leave, sit in "Koukouvayia" cafe and enjoy its famous juicy chocolate cake.
Tzagarolon Monastery – Gouverneto Monastery – Arkoudiotisa Cave – Katholiko
The following attractions are in the same direction, so if you wish, you can combine them in a one day trip. By car, you will reach the monastery of Agia Triada Tzagarolon, located at the foot of Stavros Mountain. From there, you continue to Gouverneto Monastery. Gouverneto Monastery is the oldest monastery of Akrotiri and one of the most important Crete monasteries. From there, you walk downhill on a paved trail to the cave of Panagia Arkoudiotissa, one of the most special Crete caves. Finally, you will visit the abandoned Katholiko, a cavernous complex, where St. John the hermit died.
Crete Holiday Homes to rent in Akrotiri
Holiday homes in Akrotiri offer the guests, the chance to enjoy comfort and privacy, and, at the same time, spend their holidays in an area full of life and all the necessary amenities. The main advantage of the majority of Crete holiday homes in Akrotiri is their short distance from most Akrotiri beaches. Also, as many of them are located over the sea, they offer wonderful views of the Aegean Sea.
Holiday villa Daphne with pool in Loutraki
This exceptional holiday villa is located high above Loutraki bay and offers complete independence. Benefiting from panoramic views, this spacious villa is within easy walking distance of the lovely Loutraki beach and an excellent tavern. Designed in a contemporary style, this beautiful house has large glass doors, private pool and modern amenities.
Holiday villa Penelope perched on the edge of the sea
Perched on a hilltop, and on the edge of the sea, the views are stupendous and its immaculate interior match its magnificent location. The villa has two floors, each with its own private entrance into a three bedroom apartment. For all intents and purposes the two units are entirely separate and private and in the owner's view, it is also ideally suited to a larger group who may wish to rent the whole property exclusively. The swimming pool is situated in the rocks to one side and is accessed by a common path from the house. Tersanas is the closest sandy beach at 2km away from the villa and Stavros is within 3-4 km. away. There are also two mini markets and a super market within the same distance.
Seven bedroom seafront villa Faidra with a magical sunset
Villa Faidra is a beautiful sea front villa, located at Tersanas, with its own private pool and a magnificent view of the endless blue sea.The villa consists of seven bedrooms and it can host up to 14 people. The surroundings of the villa and its outdoor spaces will certainly enchant the visitors with their beautiful flowers and herbs, the lawn near the big built-in barbecue and the big dining area. But the best of all is the pool which stands exactly above the sea thus making the sunset from villa Faidra so magical that it is difficult to be described in words.
Holiday villa in Stavros, Chania, with pool and sea view
One of the most modern Crete Holiday Homes, the newly renovated villa Ble with 4 bedrooms, 3 bathrooms and a private pool, is set in wonderful countryside of Stavros village in Akrotiri region, less than 1km from the beach. Chania, is about 25 minutes driving. Villa Ble in Stavros, Chania consists of three floors and offers a beautiful sea views. The villa has two terraces and two spacious balconies with fantastic views to the sea. It is within 15 min. walking distance from Tersanas bay.
Tersanas villa Nikos in a beautiful area with sunset view
The four bedroom luxury villa, located over Tersanas bay, futures a modern interior to accommodate up to eight guests per villa. The living area consists of a luxury open fully equipped kitchen, a dining area with sufficient place setting for eight people and a living room with a modern plasma television and DVD player. All four air-conditioned bedrooms have a private bathroom and a plasma television and DVD player. Each villa has its own private pool from where you can enjoy the Greek sun and beautiful views.
Private pool villa with a breathtaking view of Chania
The villa is located on the hill top of Agios Matheos offering guests a private, quiet location with a majestic view of Chania and the Venetian Port. The Estate Villa is comprised of two wings, making it very popular for large families or a group of friends, wishing to vacation together. The property offers central heating and is available year round. Being close to the City of Chania yet again so far away from everything, this villa is definitely the best choice for a family or a group of friends, who want to have a great time. The airport is 10 km away, as is the famous organized sandy beach of Kalathas. Other beautiful nearby beaches include Stavros, Loutraki and Marathi.