Even if you are not the type of traveler who organizes holidays months before the actual trip but prefer to wait until last minute, have no worry about organizing your Greece holidays. Crete is the second Greek destination after Zakynthos, with the largest market of last minute bookings. This year  there was an increase in last minute Crete holidays up to 62%! So don't hesitate, check out our suggestions for perfect last minute Crete holidays.
Book the Holiday Home of your Dreams in Crete, directly from the Owners!
Last minute Holidays in Plaka and Almyrida, Crete
Plaka and Almyrida in Apokoronas, Crete are highly recommended for last minute Crete holidays as there are several holiday villas, offering excellent amenities and gorgeous views to Souda and Almyrida bay.
You can reach Almyrida from Chania, following the highway towards Rethymnon until the exit to Kalives. You pass Kalives and continue another 2 km until Almyrida (22 km from Chania). Almyrida is an ideal place in Crete for those who want to enjoy the sea and the tranquility of the area, away from the bustle of large tourist resorts.
Holidays in Almyrida are also ideal for families with small children as the beach is organized and has everything may need on your family holidays. Almyrida also offers the ability for cheap holidays near Chania, since the distance is very small and can easily be reached by bus.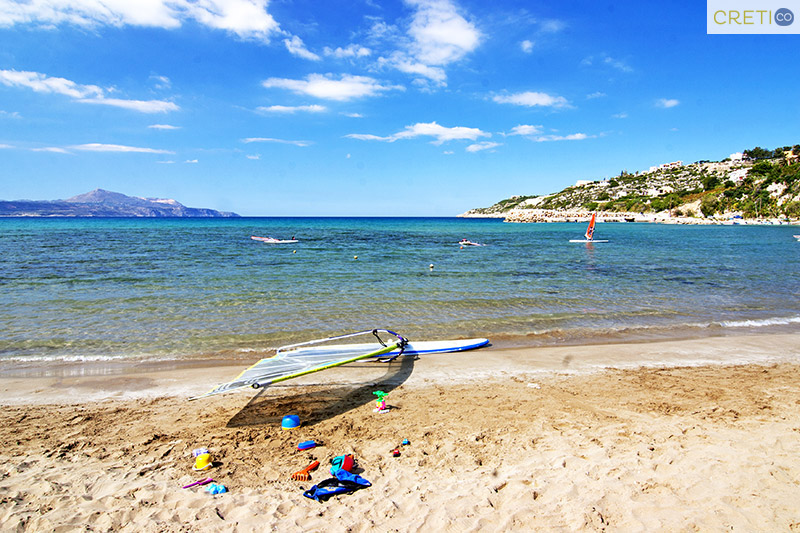 Almirida has two sandy beaches, fully organized with umbrellas, loungers and a lifeguard, while a third beach with pebbles is located before the village. The beaches in Almyrida are awarded every year with the blue flag of the European Union, and the waters are spotless. The sea is quite shallow, ideal for families with small children.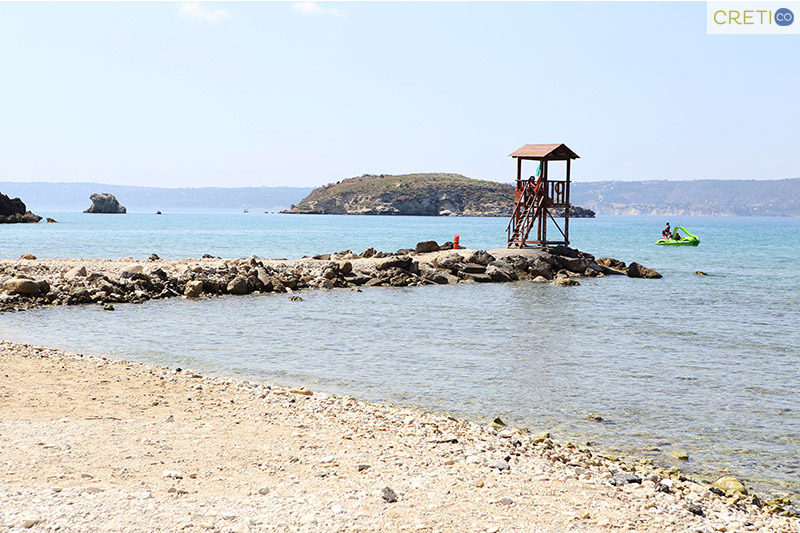 Both beaches are greatly affected by the winds and you may see high waves on days with strong wind. Wind and waves have made Almyrida a paradise for surfers. If you are more adventurous, you can rent a small sailing boat and explore the sea caves on the rocky coast, east of the village.
Walking up the hill from Almyrida, after 1 km you will reach the village of Plaka with unparalleled sea and mountain views! The village preserves the beautiful natural surroundings as it is located on the slope of Mountain Drapanokefalas where the vegetation is intense and varied. You can even see olive trees, shrubs, but also organically grown plants which do not have altered the area.
Plaka has a lovely main square and is the meeting point of locals and foreign. It has traditional cafes and tavern with cheap and at the same time delicious Cretan food. In the local shops and taverns of Plaka, you will find excellent local wine, not only to drink during your stay there, but also to take with you.
Plaka and Almyrida are just two of the countless areas of Crete that will amaze you. So if you have not organized your vacation yet, do not waste any more time. Last minute Crete holidays can be the ideal destination for you!
Choose a Holiday Villa for your Last Minute Crete Holidays
If you travel with your family or your friends, a holiday villa in Crete is a much more affordable solution than booking in a hotel. Despite that a villa has all the amenities of a hotel (private pool, air conditioning, wireless internet, fully equipped kitchen, cleaning and more), you can book it in a much lower price per guest. Most owners prefer to offer their villa in a lower price, than their villa to be free in high season.
A beautiful stone villa with hammam in Amlyrida
Villa Azalea is a delightful, four bedroom luxurious villa, located only a two minute walk from the taverns and shops of Almyrida beach village. The villa offers high end accommodation for everyone with beautiful mountain and sea views.
An amazing traditional villa on the hillside, outside the village of Plaka
The villa is located just outside the beautiful village of Plaka, in Apokoronas district of Chania, and stand isolated in a 12000sqm private green hill. This unique site, with the unobstructed views and the absolute privacy, is the ideal place for last minute crete holidays. Far away from the sounds of the city and all the unwanted disturbances, let yourself in a landscape, in which the colors and scents create the scenery of an earthly paradise.
Cretico offers over 480+ villas with private pool for your last minute Crete holidays. All you have to do is create your free account in Cretico and check the availability calendars of your preferred villas. When you find a villa that you are interested in, you can contact directly the owner. 
For your dreamy last minute Crete holidays, you can check all the Villas located near Almyrida from this link, or close the the village of Plaka by following this link.