Marathi beach is located on the southeastwards of the peninsula Akrotiri of Chania in Crete, 16 km from the city of Chania. It has two beaches with fantastic blue waters which never catch waves. You will also find taverns and cafes by the sea, overlooking the shores of Souda Bay and the White Mountains of Chania. You can enjoy swimming and when you get hungry, you may sit and enjoy the Cretan delicacies at one of the taverns of the beach.
The two coves in Marathi Beach In Crete
The beaches of Marathi are just wonderful. They are two and separated from the pier of the small harbor. Neither is better than the other. Both are sandy, organized with sun beds and umbrellas. The most important advantage is that almost never raises waves, even during the days with strong winds in western Crete. The beaches look to the southeast, across Souda Bay and the mountains of Akrotiri protect the place from the north winds.
Looking for accommodation in Crete? Check out our collection of holiday villas in Crete.
Opposite, 500m., there is the small island Marathi or Old Souda (Palaiosouda), which you can visit. On the island there is a small pine forest, while the western coast is steep and is popular to diving enthusiasts. Marathi is the ideal beach for families with young children and not only.
Sosorides beach next to Marathi Beach In Crete
The western part of Marathi beach, where there are large pebbles, is called Sosorides. The beach is particularly popular to those who are looking for a peaceful beach without fuss and crowd. You can get to Sosorides by following also a paved road just a few meters before reaching Marathi of Chania.
Access to Marathi Beach In Crete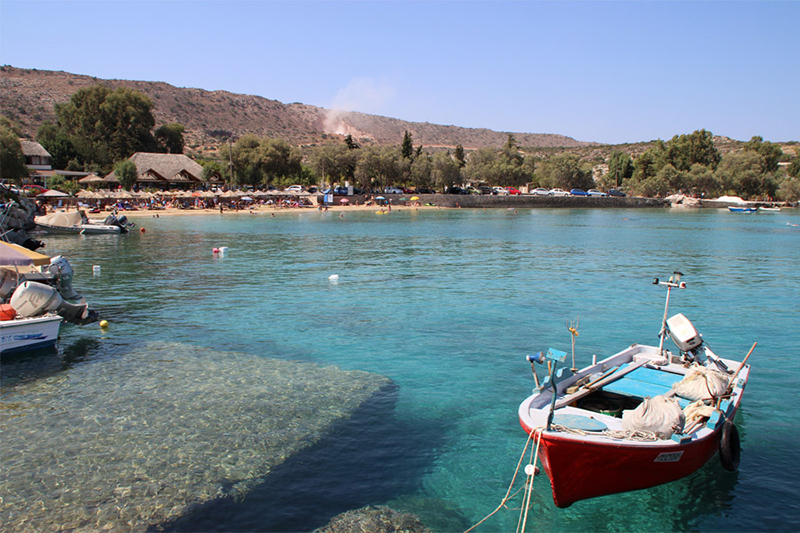 There is no access by bus to Marathi beach. If you do not have a car you can visit Marathi by taxi from the city of Chania.
Why you should visit Marathi Beach in Crete
Marathi beach in Crete is very popular to locals and foreign visitors, especially on weekends. It offers access for the disabled people, it is awarded by a blue flag and it is ideal for families with young children and not only. All the above are some good reasons for you to find a villa in Marathi and visit its wonderful beaches.
Read our Crete Villas Guide and find the holiday villa of your dreams.